6 Factors Affecting The Sale Of Your Property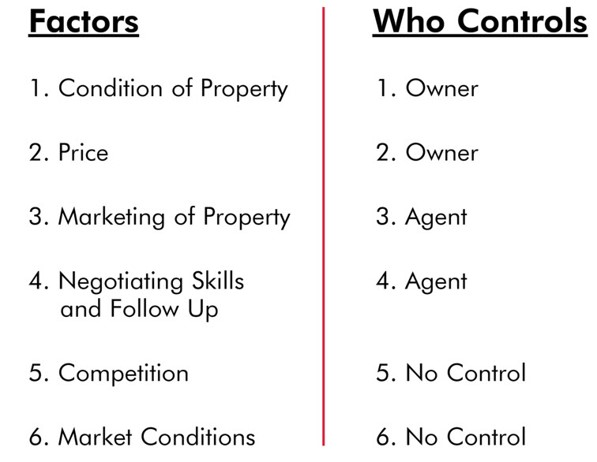 Getting your home ready to sell.
1. Condition
The condition of your home is a major factor in how fast and how much your home will sell for. One mistake we see sellers make is spending time and money on projects that do not add value to the process of selling their home. The best thing to do is to meet with your agent early in the process so you have a game plan on what needs to be done and what doesn't to get your home ready to sell.
Helpful Links:
These are the three most common pricing strategies real estate agents and sellers use.
Underpriced: Potential to attract the wrong, less qualified buyer. Buyers may assume something is wrong with the property. Risk leaving money on the table. Potential for appraisal issues.

Market Value: Better chance of bidding war. More likely to get an offer at or above list price. Likely to sell quickly.

Overpriced: Likely to sit on the market longer. High price tag may deter potential, qualified buyers. Most likely to need a price reduction.
Helpful Link:
Marketing your property is a major part of what you hire an agent to. You want an agent who can expose your property to the most potential buyers.
The average agent takes some photos, puts it on the MLS and puts a sign in the yard and waits for a buyer.
At The Knox Fox Real Estate Group we have a proven marketing plan that will put your home in front of the most potential buyers possible with:
Professional photography & videography
Listing portal syndication
Targeted social media ads
Text for info number
Appointment Center
Our network of the top agents in our market.
4. Negotiaton Skills and Follow Up
When it comes to selling your home you need a full-time agent who:
Is a good communicator.
Has a lead follow up process.
Knows the current market (the market is always changing).
Knows how to negotiate a contract.
Has contract to close process that keeps you informed and protects your interest.
When you put your home on the market you are competing with other sellers for a buyer. When inventory, the number of homes on the market, is low than your competion should be less. If inventory starts to grow that means more competition is coming to the market.
To get an accurate look at your competition you and your agent need to look at the homes that are currently on the market (for sale) in your general location that are similar in character to yours.
Inventory can change based on market conditions (interest rates and affordability), new home construction, and local economics.
Ultimately the amount of inventory can impact pricing. It's important to look at your home from a buyer's view point when looking at the available homes on the market in your area.
The graph below shows last 5 years of inventory, new listings, pending sales and sold housing units for the greater Knoxville area which includes roughly 12 counties.
What impacts housing market conditions?
Interest rates
Macro/Micro Economy
Housing affordability
Inventory levels
New Construction Starts
Want to know more about the current market?
What's your home worth?
Thinking about selling? Find your home or condo's value in today's market, for free.